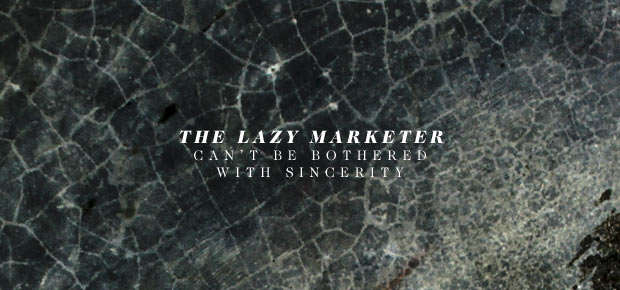 ---
A printer I've used a few times over the years has been working hard lately to drum up new business. Someone there has heard of the rule that it's easier to get money from people who already know you than it is to convert new customers. The company has been on a real blitz lately. Over the past month I've received multiple copies of the same email, and last week I received a letter—all with the exact same content.
I've reproduced the content of this marketing effort below, with some of the identifying information removed.
---
Good Afternoon Taylor Garries,

My name is [sales rep], assistant manager from [well-known printing company]. How is business going? I noticed that you haven't ordered with us for a while and would like to do some more work with you.

I would like to update you on the following summer specials going on at [well-known printing company]:

[summer specials]

Although price is important, we know that service is much more valuable when it comes to printing. I would like to work with you on any print projects that you have coming up and I will be your dedicated rep and provide you with fast, reliable and high quality printing.

Taylor Garries, let me know when your next print job and let me quote you on it. You can contact me at [phone number] or email me at [email address].

Talk to you soon,

[sales rep]
---
This type of marketing is all about illusion. While I expect the advertiser to use a mail-merge form letter, I also expect the company to do a better job of creating an illusion that we genuinely enjoy a personal relationship.
The printer wanted the letter to sound like it really came from this person and was written specifically for me:
It's addressed to me.
It's written in the first person.
It offers me a "dedicated" rep.
It asks how my business is going.
It mentions the importance of service.
However, the vendor did a poor job with this mail merge and the actual content of the letter (grammatical errors notwithstanding). If you're going to write a letter to sound like you're personally sending it to me, take the time to make it sound like you're personally sending it to me. When you get this wrong, you end up sounding like a Nigerian prince trying to get some help with money transfer.
The sloppy work spoiled the illusion, instead reminding me that we don't have a personal relationship and that I'm being sold to as one of thousands.
People generally don't write letters that start with "Good Afternoon Taylor Garries." People also rarely specify the time of day in an opening greeting of the email: you wouldn't know when the recipient might read it. The author should have used "Dear," the less formal "Hello," or "Hi."
Using the recipient's full name also sounds awkward. The advertiser should have used either "Mr. Garries" or "Taylor." If you're trying to build on the fact that a relationship exists—and presumably it is a good relationship—then you should go for the less formal option. Vendors that I get along with would usually write something like, "Hi Taylor."
And then there's one of the closing lines: "Taylor Garries, let me know when your next print job and let me quote you on it." Again, did no one stop to ask how this would sound?
These small but telling gaffes conflict with the tone of the letter and become glaring errors in the eyes of the reader. The vendor should have polished up the content to ensure that it reads well after the mail merge.
But then, I received this exact form letter at least three times—from three different people. Even if the content was perfect, this would have ruined the illusion of any personal communication. The company should have scrubbed its distribution list to remove duplicates. This is the biggest chore, but it would yield the biggest payoff.
Alternatively, the vendor could have dropped the concept of sending a personalised letter altogether, rewriting the letter to be less personal instead. Don't ask me how my business is going. Don't write in the first person. Just send out a creative piece that engages me without tricking me. I'd much rather have received that three times.